Lobular carcinoma in situ (LCIS) of the breast: is long-term outcome similar to ductal carcinoma in situ (DCIS)? Analysis of 200 cases
Radiation Oncology
2015
10:110
Received: 4 January 2015
Accepted: 16 March 2015
Published: 6 May 2015
Abstract
Background
Lobular carcinomas in situ (LCIS) represent 1-2% of all breast cancers. Both significance and treatment remain widely debated, as well as the possible similarities with DCIS.
Materials and methods
Two hundred patients with pure LCIS were retrospectively analyzed in seven centres from 1990 to 2008. Median age was 52 years; 176 patients underwent breast-conserving surgery (BCS) and 24 mastectomy. Seventeen patients received whole breast irradiation (WBRT) after BCS and 20 hormonal treatment (15 by tamoxifen).
Results
With a 144-month median follow-up (FU), there were no local recurrences (LR) among 24 patients treated by mastectomy. With the same FU, 3 late LR out of 17 (17%) occurred in patients treated by BCS and WBRT (with no LR at 10 years). Among 159 patients treated by BCS alone, 20 developed LR (13%), but with only a 72-month FU (17.5% at 10 years). No specific LR risk factors were identified. Three patients developed metastases, two after invasive LR; 22 patients (11%) developed contralateral BC (59% invasive) and another five had second cancer.
Conclusions
LCIS is not always an indolent disease. The long-term outcome is quite similar to most ductal carcinomas in situ (DCIS). The main problems are the accuracy of pathological definition and a clear identification of more aggressive subtypes, in order to avoid further invasive LR. BCS + WBRT should be discussed in some selected cases, and the long-term results seem comparable to DCIS.
Keywords
Lobular carcinoma in situ
Breast cancer
Treatment
Local recurrence
Radiotherapy
Breast-conserving surgery
Background
Firstly described in 1941 by Muir, Foote and Stewart, the exact significance of lobular carcinoma in situ (LCIS), also called lobular neoplasia (LN), remains debated, ranging for many years from a simple marker of subsequent invasive carcinoma to, more recently, a real pre-cancerous lesion in many cases, especially invasive lobular carcinoma (ILC) [1,2].
The variability of pathological definitions according to time, with frequent combined analysis of LCIS/LN and atypical lobular hyperplasia (ALH) or new classification defined in 2002 and including three types of lobular intra-neoplasia (LIN), as well as rarity and frequent insufficient long-term follow-up in several series, all represent additional uncertainties regarding its optimal treatment [3].
Our study evaluated the long-term outcome in a cohort of 200 women with pure LCIS treated by three different options, i.e. breast-conserving surgery alone (BCS), BCS with whole breast irradiation (BCS + WBRT) or mastectomy (M). We compared our results according to the same treatments used in DCIS [4,5], particularly assessing the potentially life-threatening risk of invasive local recurrence (LR).
Materials and methods
From January 1990 to December 2008, 200 patients with "pure" LCIS (without associated DCIS and/or previous or synchronous contralateral DCIS or invasive breast cancer) were retrospectively collected in seven centres, also sometimes including benign lesions, e.g. atypical (ductal and/or lobular) hyperplasia or sclerosing adenosis. Seven patients had bilateral synchronous LCIS. Median age was 52 years (range: 32–77).
79 out of 180 (44%) patients were post-menopausal and 45 of them (57%) underwent hormonal replacement therapy (HRT) for a 5-year median duration (76% by estrogen and progestins association).
In 60 out of 166 (30%) specified cases, a first and/or second family-history degree of breast cancer was found. Two patients had BRCA-1 and 2 mutation.
53 (44%) patients underwent previous surgery for a benign lesion, i.e. fibroadenoma (14), cyst (8), atypical hyperplasia (8) and sclerosing adenosis (2). There were 95 (46%) lesions in the right and 112 (54%) in the left breasts, respectively. Clinical symptoms were present in 44 (21%) cases. In 143 (72%) cases, LCIS was discovered by mammography and/or ultrasound (Table
1
). In 15 cases, the lesion was discovered incidentally after surgery performed for benign disease or breast reduction.
Table 1
Radiological features leading to biopsy (183 evaluable cases)
| | n | % |
| --- | --- | --- |
| Microcalcifications (isolated) | 105 | 57.4 |
| Microcalcifications and other abnormalities | 15 | 8.1 |
| Round opacity | 31 | 16.9 |
| Stellar opacity | 6 | 3.3 |
| Abnormal density | 12 | 6.6 |
| Architectural distorsion | 4 | 2.1 |
| No abnormalities | 10 | 5.6 |
Treatments
Surgery
168 patients underwent lumpectomy (7 with a complementary resection), 8 quadrantectomy and 24 (6 in two times) mastectomy (nine of whom had contralateral prophylactic mastectomy), due to multicentric disease or patient's preference.
Radiotherapy
Seventeen patients underwent a classical 50 Gy/25 fractions WBRT, including 8 with a 10-Gy boost. There were no factors influencing the WBRT choice, i.e. age, LIN subtype, excision quality or multifocality.
Hormonal therapy (HT)
Twenty patients received hormonal therapy (15 by Tamoxifen), 17 of them after BCS (10.7%), two after BCS + RT (11.8%) and only one after mastectomy. HT was significantly more prescribed in case of incomplete excision (16% versus 4.5%, p = 0.041) or LIN 3 or 2 versus 1 (43%, 15% and 4% respectively, p = 0.03).
Pathology
All centres had pathologists deeply involved in the breast field, but central review could not be carried out. The subtype was only specified in 128 cases (classical in 124 and pleomorphic in 4).
According to LIN classification (applied since 2002), among our 94 evaluable cases, we found 25 LIN 1, 54 LIN 2 and 15 LIN 3. Moreover, among 172 evaluable cases, a single focus of LCIS was found in 101 patients (59%) and multiple foci in 71 (41%). The multiple foci rate was significantly higher (p = 0.001) in patients treated by mastectomy (77.3%) versus BCS (+/−WBRT) (36%). Among 143 evaluable cases, excision was considered complete in 112 (78%) cases, incomplete in 13 (9%) and doubtful in 18 (13%). Among 75 evaluable cases, the median lesion size was 12 mm.
Moreover, associated atypical epithelial hyperplasia (AEH), atypical lobular hyperplasia (ALH) and sclerosing adenosis were found in 68/187 (36%), 48/184 (26%) and 46/181 (25%) of the cases respectively.
Results
Local recurrences
All patients had a bi-annual clinical FU in the first five years, then once a year. A mammography was also completed by ultrasound each year. With a 144-month median follow-up, there were no local recurrences (LR) among 24 patients who underwent mastectomy. With the same follow-up, three out of 17 (17%) patients treated by BCS + RT developed LR (all of them after 10 years), i.e. one DCIS, one infiltrating ductal carcinoma (IDC) SBR-1 pT
1
bN
0
and one IDC SBR-3 pT
1
cN
1
. Among the BCS group with only a 72-month follow-up, 20/159 (13%) LR occurred (Figure
1
). Sixteen (67%) were invasive, including 11 IDC, two tubular carcinomas and three ILC (one had previously recurred as LCIS). Among non-invasive LR, there were three DCIS and one mixed DCIS-LCIS. There were no significant clinical (mode of discovery, age) or pathological (number of foci, excision quality, AH presence) LR factors.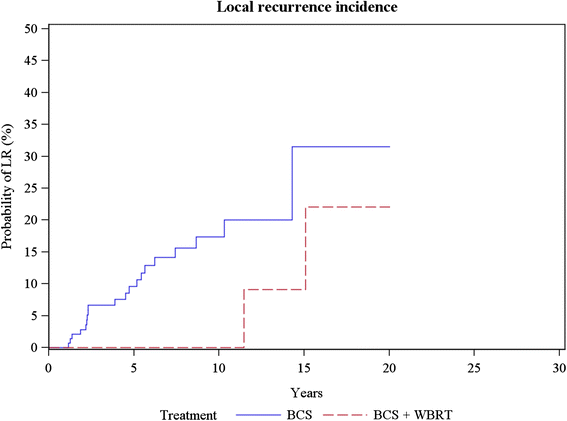 Axillary recurrences
An associated axillary nodal involvement (ANI) was found in three cases (two ILC and one IDC). One patient treated by mastectomy developed axillary recurrence 20 years later certainly due to missed foci of invasive carcinoma in the mastectomy specimen. Thus, the overall axillary recurrence rate for the entire cohort was 2% (4/200).
Metastases
Three patients developed metastases, two with previous invasive LR (one ILC and one IDC). Thus, the rate of metastasis after invasive LR was 11% (2/18).
Contralateral breast cancer (CBC)
Twenty-two out of 191 patients developed CBC (11.5%) (Figure
2
). The rate varies according to treatment and follow-up (Table
2
). Overall, 13 out of 22 (59%) CBC were invasive.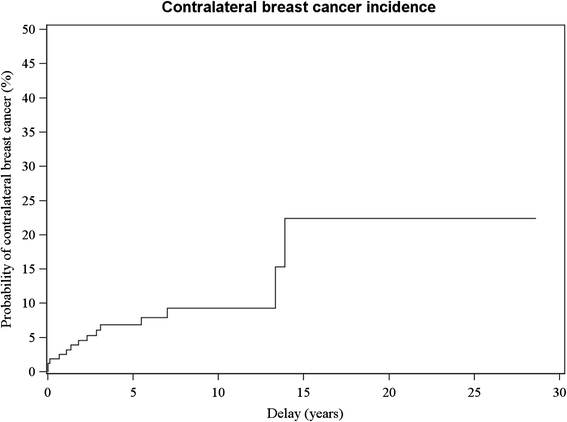 Table 2
Contralateral breast cancer (CBC) according to treatment
| | n | FU* | % | In situ (n) | Invasive (n) |
| --- | --- | --- | --- | --- | --- |
| BCS** (159) | 15 | 72 | 9 | 4 | 10 |
| BCS + WBRT*** (17) | 3 | 144 | 17 | 3 | - |
| Mastectomy (24) | 5 | 144 | 21 | 2 | 3 |
| Total (200) | 22 | 87 | 11 | 9 | 13 |
Second cancers
Five patients developed a second cancer (colon: 2, thyroid: 1, skin and salivary gland: one each).
Long-term follow-up
Six patients were lost of follow-up and 189 are still alive. Four patients died, one by BC, one by intercurrent disease and two by colic cancer.
Declarations
Acknowledgement
The authors would like to thank Mrs Diane PENET for her translation skills.
Authors' Affiliations
(1)
Institut du Cancer Courlancy, Reims, France
(2)
Institut Claudius Regaud, Toulouse, France
(3)
Institut Curie, Paris, France
(4)
Centre Henri Becquerel, Rouen, France
(5)
Institut Paoli-Calmettes, Marseille, France
(6)
Centre Hospitalier Régional, Orleans, France
(7)
Institut de Cancerologie de Lorraine, Vandoeuvre-les-Nancy, France
(8)
Sylia-Stat, Bourg-la-Reine, France
Copyright
© Cutuli et al.; licensee BioMed Central. 2015
This is an Open Access article distributed under the terms of the Creative Commons Attribution License (http://creativecommons.org/licenses/by/4.0), which permits unrestricted use, distribution, and reproduction in any medium, provided the original work is properly credited. The Creative Commons Public Domain Dedication waiver (http://creativecommons.org/publicdomain/zero/1.0/) applies to the data made available in this article, unless otherwise stated.