Commissioning and early experience with a new-generation low-energy linear accelerator with advanced delivery and imaging functionalities
Radiation Oncology
2011
6:129
Received: 29 July 2011
Accepted: 30 September 2011
Published: 30 September 2011
Abstract
Background
A new-generation low-energy linear accelerator (UNIQUE) was introduced in the clinical arena during 2009 by Varian Medical Systems. The world's first UNIQUE was installed at Oncology Institute of Southern Switzerland and put into clinical operation in June 2010. The aim of the present contribution was to report experience about its commissioning and first year results from clinical operation.
Methods
Commissioning data, beam characteristics and the modeling into the treatment planning system were summarized. Imaging system of UNIQUE included a 2D-2D matching capability and tests were performed to identify system repositioning capability. Finally, since the system is capable of delivering volumetric modulated arc therapy with RapidArc, a summary of the tests performed for such modality to assess its performance in preclinical settings and during clinical usage was included.
Results
Isocenter virtual diameter was measured as less than 0.2 mm. Observed accuracy of isocenter determination and repositioning for 2D-2D matching procedures in image guidance was <1.2 mm. Concerning reproducibility and stability over a period of 1 year, deviations from reference were found <0.3 ± 0.2% for linac output, <0.1% for homogeneity, similarly to symmetry. Rotational accuracy of the entire gantry-portal imager system showed a maximum deviation from nominal 0.0 of <1.2 mm. Pre treatment quality assurance of RapidArc plans resulted with a Gamma Agreement Index (fraction of points passing the gamma criteria) of 97.0 ± 1.6% on the first 182 arcs verified.
Conclusions
The results of the commissioning tests and of the first period of clinical operation, resulted meeting specifications and having good margins respect to tolerances. UNIQUE was put into operation for all delivery techniques; in particular, as shown by the pre-treatment quality assurance results, it enabled accurate and safe delivery of RapidArc plans.
Keywords
UNIQUE linear acceleratorRapidArcBeam Commissioning
Background
During 2009, a new single-energy linear accelerator for radiotherapy was introduced in clinical operation by Varian Medical System (Palo Alto, CA, USA). This new linac, called UNIQUE™ (UNIQUE in the following), was an evolution of the previous series of low-energy linacs. It incorporated new treatment modalities like Volumetric Modulated Arc Therapy according to the RapidArc® method as well as advances in imaging modalities. UNIQUE also improved gantry mechanical control to allow safe operation of the advanced delivery modes. The world's first installation of UNIQUE took place at the Oncology Institute of Southern Switzerland and the machine started clinical treatments in June 2010.
Purpose of the present report was to summarise commissioning data in terms of main mechanical features as well as beam characteristics. Secondly, the results of the RapidArc commissioning on UNIQUE were presented as well as an overview of the technical aspects of the first clinical treatments. Several protocols and publications exist describing and recommending standardised procedures for beam data commissioning as well as publications on quality assurance procedures (among these, AAPM [1] or ESTRO [2] codes of practice), on analysis of results from mono or multi institutional investigations [3] and on accuracy and precision levels required in radiation therapy in general [4]. The present report, was based on recommendation from the Swiss Society of Radiobiology and Medical Physics [5] and were tailored to the specific commissioning needs to characterise a delivery system into the Eclipse treatment planning system adopted at author's institute.
Methods
UNIQUE linac was designed to generate and deliver a single photon beam of nominal energy of 6MV with a maximum dose rate of 600 (or 400 MU/minute depending on the version), and was developed with a vertical standing wave linac, without bending magnet and steering coils. RF power generation was realised by a conventional magnetron. It was equipped with a Millennium multileaf collimator (MLC) with either 120 leaves (with 0.5 cm resolution at isocentre in the inner 20 cm and 1.0 cm resolution in the outer 20 cm) or with 80 leaves (1.0 cm resolution over the entire 40 cm of maximum field size). The couch top was derived from high energy linacs and adapted for image guidance and rotational therapy (the so-called Exact-IGRT couch top). Mechanical and Enhanced Dynamic Wedges were implemented on this new delivery platform as in other conventional Varian linacs. Mega Voltage Imaging was guaranteed by the amorphous silicon electronic portal imager PortalVision aS1000 (with pixel size of 0.392 mm) or aS1000/2 (with half resolution) operated by the so-called ExactArm, a robotic positioning arm using an active control and position correction system that compensates for gravitational and mechanical undue movements even during rotation. Patient anti-collision safety was implemented by means of a laser-based system (LaserGuard). Optional Image-guided patient repositioning was facilitated through 2D-2D MV image matching (Portal Vision Advanced Imaging (PVAI) application) and by automatic remote treatment couch movement managed by the image review application without the necessity to enter the room for couch operation.
Operational limits for asymmetric jaws were -2 cm overtravel for x jaws and -10 cm for y jaws; similarly, all other mechanical were implemented identical to other existing delivery Clinac platforms from Varian.
Concerning RapidArc implementation on UNIQUE, gantry rotation was controlled in the first generation of machines, by a slipping clutch system. The dose rate control of the UNIQUE accelerator was uses a principle schematically summarised as follows. The gun pulse trigger is always in coincidence with the magnetron pulse; the dose rate is varied by changing the magnetron pulse repetition frequency (PRF). The PRF frequency varies between 50 - 400 pulses/sec depending on the dose rate (up to 600 MU/min).
Every 50 ms, the control system of UNIQUE, compares, in dynamic treatments, the number of cumulative MU (resolution of 0.01 MU) delivered versus prescribed and takes it into account for calculation of the PRF for the next dose rate servo cycle.
Results and discussion
A. UNIQUE Commissioning, Anisotropic Analytical Algorithm configuration and periodic quality assurance measurements
B. Imager isocenter accuracy and 2D/2D match and couch shift accuracy
Figure
6
showed the results of imager isocenter (step 1) and couch shift (step 3) accuracy over a six-month period on weekly basis for both UNIQUE and Clinac iX. The images were acquired at 180° and 90°, i.e. the standard positions used for 2D imaging in our institute induced by the most common start position of the first arc for RapidArc treatment (i.e. 179° as internal rule). To notice that, for the Clinac iX, the 2 images were acquired respectively with MV and kV detectors to minimize gantry movements. The average results were respectively for UNIQUE and Clinac iX 1.0 ± 0.3 and 0.5 ± 0.3 mm at 90°, 1.2 ± 0.3 and 0.4 ± 0.3 mm at 180° for step 1, 0.8 ± 0.3 and 0.6 ± 0.4 mm at 90°, 0.7 ± 0.3 and 0.5 ± 0.4 mm at 180° for step 3, always lower than acceptability criteria set at 1.5 mm. About the disagreement between the remote couch shift obtained from 2D-2D match and the expected shift of 1 cm (step 2), was always less than 1 mm.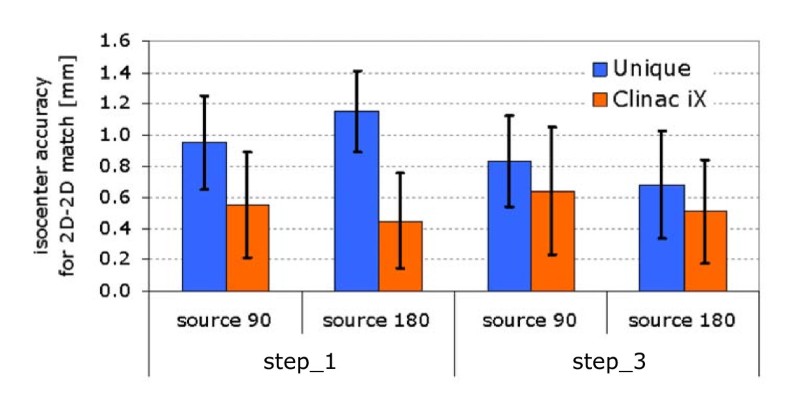 C. Rotational Stability
Figure
7
showed the results of the gantry rotational stability tests. A small field (0.4 × 0.4 cm
2
) was acquired in cine mode with the portal imager and the relative movement in x and y directions of its center of mass was plot against gantry angle. The histogram showed the results of monthly tests over a period of 1 year. As it can be seen, the total residual motion due to gantry sag and portal imager displacement due to gravity not compensated by the active arm control system is on average <0.6 mm with a maximum deviation from the nominal center <1.2 mm and absolute maximum excursion in the y direction <1.8 mm.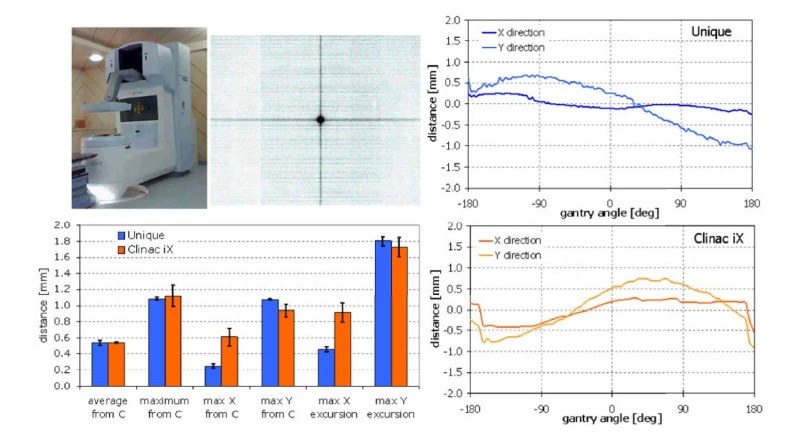 D. RapidArc commissioning and medium term (1 year) machine performances
Figure
8
reported the results of the monthly tests performed according to the referenced study of Ling et al [
13
]. Test 0.1 referred to fixed gantry deliveries, while tests 2 and 3 referred to rotational deliveries, with different combinations of gantry speed, dose rate and MLC speed. Each test aimed to generate uniform dose delivery in bands as shown in the figure. Tolerance of 2% for the maximum deviation in each band from the baseline defined as the average over all bands was required and on average achieved in all cases for UNIQUE, even in the challenging first band of test 2, where gantry inertia was shown to be sometimes critical also in previous experience. The tests performed at commissioning and periodically over 1 year, demonstrated that the rotational control system of UNIQUE is accurate and precise for RapidArc delivery and allowed for immediate clinical implementation of this technique. Delivery parameters were investigated for plans of 12 patients delivered on both UNIQUE and Clinac iX by means of dynalog files analysis. Figure
9
summarizes for each of these test cases the average deviation from planned/expected positions of the gantry, of the MU and of the MLC. In all cases both machines showed i) very small inter patient variability and ii) very small absolute deviations from theoretical reference. Interestingly, the gantry deviation plot showed better results on UNIQUE than on Clinac iX. This systematic effect was linked to different tightening of the chain or clutch systems but did not induced measurable dosimetric effects.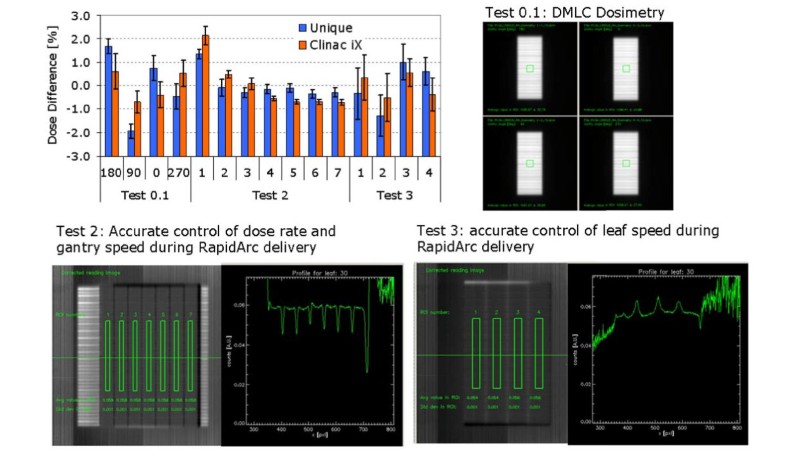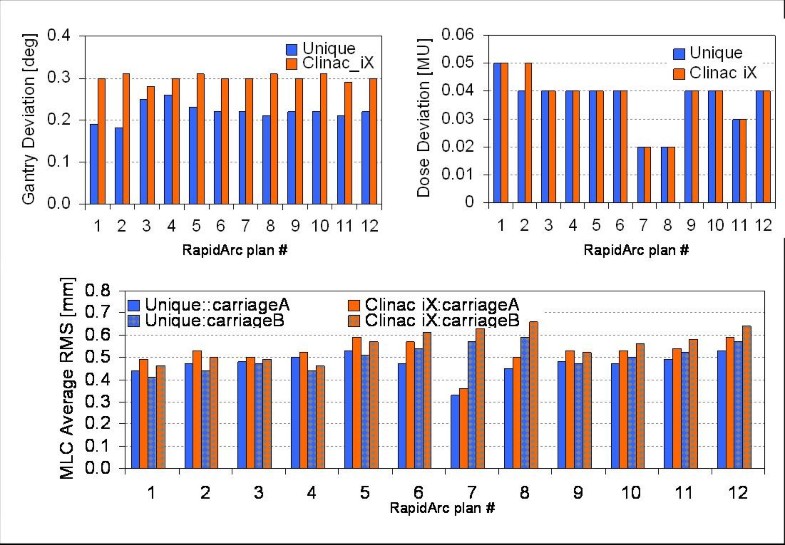 Quality assurance of RapidArc delivery included also i) delivery of standardized clinical test cases for RapidArc and also for IMRT to prove global machine stability and ii) pre-treatment verification of clinical plans for all patients as described in the methods. Table
2
summarized the results of these measurements. GAI for the constancy tests resulted fully equivalent with reference historical data from other machine available at institute, further showing reliability of the UNIQUE. At the time of submission, 152 patients (192plans, 348 arcs) were treated for RapidArc on UNIQUE and for these cases, GAI resulted of 97.3 ± 1.6% with a complete overlap with historical results from a larger group of 606 patients (797 plans, 1186 arcs) treated on a period of 31 months with RapidArc on Clinac iX at the institute.
Table 2
Summary of the stability control and of the pre-treatment patients quality assurance results for RapidArc and IMRT treatments.
| | | Unique | Clinac iX |
| --- | --- | --- | --- |
| GAI [%] constancy on a pre-treatment QA case (1 year data with a periodicity of 2 weeks) | RapidArc case | 98.5 ± 1.1 [96.7, 99.6] | 99.0 ± 0.3 [98.3, 99.4] |
| | IMRT case | 99.4 ± 0.1 [99.2, 99.2] | 99.0 ± 0.4 [98.2, 99.3] |
| Clinical pre-treatment RapidArc QA | GAI [%] | 97.3 ± 1.6 [92.4, 99.9] | 97.4 ± 1.8 [91.5, 99.9] |
| | Number of arcs (plans) | 348 (192) [12 months] | 1186 (797) [31 months] |
Conclusions
A new-generation of low-energy linear accelerator, UNIQUE, was recently introduced in the clinical arena (at the moment with the exclusion of USA, Canada and Japan) by Varian Medical Systems. The results of the commissioning tests and of the first period of clinical operation of this new delivery system were presented in this report for beam characterisation and modelling into the treatment planning system, periodic quality assurance tests and RapidArc operations. In all areas, UNIQUE resulted meeting specifications and having good margins respect to tolerances, and was put into operation for all delivery techniques. In particular, as shown by the pre-treatment quality assurance results, it enabled accurate delivery of RapidArc plans and this ended in the interruption of clinical application of IMRT at our institute having replaced the entire fixed gantry IMRT programme with RapidArc now enabled on all delivery systems of our institute.
Authors' Affiliations
(1)
Medical Physics Unit, Oncology Institute of Southern Switzerland, Bellinzona, Switzerland
Copyright
© Clivio et al; licensee BioMed Central Ltd. 2011
This article is published under license to BioMed Central Ltd. This is an Open Access article distributed under the terms of the Creative Commons Attribution License (http://creativecommons.org/licenses/by/2.0), which permits unrestricted use, distribution, and reproduction in any medium, provided the original work is properly cited.