Integrative radiation systems biology
Radiation Oncology
2014
9:21
Received: 22 November 2013
Accepted: 31 December 2013
Published: 11 January 2014
Abstract
Abstract
Maximisation of the ratio of normal tissue preservation and tumour cell reduction is the main concept of radiotherapy alone or combined with chemo-, immuno- or biologically targeted therapy. The foremost parameter influencing this ratio is radiation sensitivity and its modulation towards a more efficient killing of tumour cells and a better preservation of normal tissue at the same time is the overall aim of modern therapy schemas. Nevertheless, this requires a deep understanding of the molecular mechanisms of radiation sensitivity in order to identify its key players as potential therapeutic targets. Moreover, the success of conventional approaches that tried to statistically associate altered radiation sensitivity with any molecular phenotype such as gene expression proofed to be somewhat limited since the number of clinically used targets is rather sparse. However, currently a paradigm shift is taking place from pure frequentistic association analysis to the rather holistic systems biology approach that seeks to mathematically model the system to be investigated and to allow the prediction of an altered phenotype as the function of one single or a signature of biomarkers. Integrative systems biology also considers the data from different molecular levels such as the genome, transcriptome or proteome in order to partially or fully comprehend the causal chain of molecular mechanisms. An example for the application of this concept currently carried out at the Clinical Cooperation Group "Personalized Radiotherapy in Head and Neck Cancer" of the Helmholtz-Zentrum München and the LMU Munich is described. This review article strives for providing a compact overview on the state of the art of systems biology, its actual challenges, potential applications, chances and limitations in radiation oncology research working towards improved personalised therapy concepts using this relatively new methodology.
Keywords
Systems biologyMulti-level integrationRadiation biologyPersonalised therapy
Introduction
Why we need to improve radiation therapy
Radiation therapy is beside chemo-/immunotherapy and surgery part of the standard treatment of many cancers. Worldwide approx. 13 million new cancer cases and approx. 7.6 million cancer-related deaths arise every year, about half of them in the developed countries [1]. About 60% of cancer cases [2] are treatable with radiotherapy - therefore, any improvement of the success of this treatment option comes with a huge potential impact on the absolute number of additionally cured patients. In the case of head and neck squamous cell carcinoma (HNSCC), a tumour entity that is - mostly in combination with chemo- or immunotherapy - predestinated for radiotherapy, the overall 5-years survival rate is only 45-50% [3] while this rather discouraging number is mostly attributable to the high recurrence rate of this type of cancer which in turn is caused by the resistance of tumour cells to the treatment. Resistance in this context is of multifactorial nature and the specific contributions of radiation alone and the concomitant treatments are challenging to be ruled out. However, it is obvious enough that improvement of radiation therapy would have a significant positive impact on overall therapy success. Moreover, radiation resistance causing local recurrence of the tumours [4] can be of intrinsic nature and thereby a matter of predispositions carried by the patient. The other option is that resistance to therapy is acquired in the course of the therapy as a result of tumour cell evolution during which some cells attain properties of resistance against the pressures built during radiotherapy i.e. reduced radiation sensitivity and which then allow them to overgrow cells missing these properties. Hence, in the context of radiation therapy, individual radiation sensitivity seems to be the key feature of tumours and its understanding needs to be addressed when it comes to efforts of improving the efficiency of radiotherapy.
Whilst a number of markers, although not having made it into clinical practice, driving the radiation sensitivity of normal tissue were identified [5], the knowledge on radiation sensitivity associated markers and mechanisms in tumour cells is sparse. But the overall prerequisite for improving the long-term efficiency of raditoherapy is a deep understanding of the underlying mechanisms of radiation sensitivity in tumour cells in order to get a handle on the control of this phenomenon. The approaches that were taken so far and which were mostly based on plain association testing have not revealed any clinically applied key markers or targets for the modulation of radiation sensitivity in radiation therapy, yet. This might be due to the multifactorial nature of reduced radiation sensitivity which is a mixture of stochastic and deterministic effects and most likely the result of intrinsic and acquired alterations of the cells. Therefore, a rather holistic approach that seeks to address this multifactoriality instead of singling out particular factors for investigation is promising to provide the potential of revealing mechanisms and their key players to be targeted - therefore, systems biology approaches may provide the solution here.
Targeted treatment options combined with radiation therapy
The phenomenon of radiation resistance is frequently seen in tumours that were treated by radiation therapy or concomitant radiation therapy. Although the mechanisms governing radiation resistance are not fully understood there are already some radiotherapy concomitant treatment options that have made it into clinics that specifically target important signalling pathways or the cells surrounding the tumour that are known to have an impact on the radiation sensitivity. A review by Kaliberov and Buchsbaum [6] summarises the molecular mechanisms of cellular response to radiation and which are involved in the acquired generation of radiation resistance: base excision repair, non-homologous end joining or homologous recombination of double-strand breaks or programmed cell death. Another classification of target mechanisms was formulated by Orth et al. [2] who distinguish radiotherapy concomitant targeted treatment options that modulate radiation sensitivity by aiming at the DNA damage response, topoisomerases, the apoptosis network, cell division, heat shock response, the EGFR pathway and the tumour micro milieu. While all of those treatment targets and the modulation of them aims at increasing the radiation sensitivity of tumour cells are promising and already partly successful in improving patients' outcome a real breakthrough was not achieved, yet.
Systems biology and its potential role in clinical radiation research
As explained in the previous section existing treatment options accompanying radiotherapy already improve prognosis of the patients, new ways of identifying powerful radiation sensitivity modulators have to be explored and systems biology appear to be promising.
Promising outcomes from two systems biology studies
Two recent studies on colon cancer [49, 50] that systematically modelled the response of the RAS/PI3K signalling pathway to inhibition of EGFR by cetuximab revealed strong negative feedback loops between ERK and EGFR. This feedback loop immediately compensates any EGFR inhibition by cetuximab by activating EGFR. Therefore, only double-inhibition of EGFR and MEK [49] or BRAF [50] seems to break this feedback connection in order to bypass any acquired resistance to cetuximab. Actually, a study on colon cancer is currently trialling a combinatorial treatment of BRAF/MEK and EGFR with Dabrafenib, Trametinib and Panitumumab (www.clinicaltrials.gov, ID:NCT01750918). Referring to the Klinger et al. study [49] a systems model should not be of too high complexity and should be therefore very much reduced to informative nodes only.
These two studies could serve as a role model for tackling the phenomenon of acquired resistance in HNSCC to radiation treatment. The activities of the below described clinical cooperation group are actually also aiming to get to a systems model explaining acquired resistance to radiotherapy in HNSCC and thereby providing molecular targets to break resistance to therapy.
An example of an application of systems biology in radiation oncology research: the clinical cooperation group "Personalized radiotherapy in head and neck cancer"
The clinical cooperation group (CCG) "Personalized Radiotherapy in Head and Neck Cancer" is a structure aiming at the intimate collaboration of research and oncology in order to understand the mechanisms of radiation resistance in HNSCC and to identify targets that allow to overcome resistance to radiation therapy. The CCG allows intensive exchange of expertise and knowledge between academic and oncology research whilst the clinicians formulate the questions to be addressed by the research carried out and thereby allow the researchers to most efficiently work towards the common goal of improving radiotherapy of HNSCC. The CCG has a core project (Figure
3
) which starts with the molecular characterisation of clinical samples from selected HNSCC cohorts. With regard to the global characterisation of molecular levels we focus on the genome and miRNA level in the first place since these are the best accessible ones wenn it comes to analysis of archived clinical samples. The global molecular characterisation data are complemented with typing of the HPV status and individual mutations known to have an impact in HNSCC, with clinical follow-up including endpoints reflecting response of the treated tumours to radiation therapy. These are integrated in order to come to candidate molecules that are likely to be involved in the molecular mechanisms of radiation sensitivity and that can serve as a starting point for time-resolved molecular characterisation at the transcriptome and miRNA level of cell culture models after perturbation by regulating the candidate molecules that were identified in the clinical samples. The resulting global time-course mRNA and miRNA data are then used for reconstructing the interaction networks of the candidate molecules and also allow to infer the molecular mechanisms associated with radiation sensitivity. Different methods are explored and those with the best performance, which will be validated by further experiments (i.e. knock-down of specific genes), will be chosen. Since we are looking at gene regulatory networks that are specifically influenced by genomic copy number and miRNA expression the use of Gaussian graphical modelling [
23
] might provide the solution here. Further, using graph network analysis the most important (central) nodes that could be used as molecular modulators of radiation sensitivity are identified. The selection of candidates will be performed using well established centrality measures (e.g. betweenness) in order to get to the "most important" molecules of the network. In a second step this selection will be explored for drug "targetability" using established drug databases such as DrugBank [
51
]. These candidates are then characterised for their radiation sensitivity modulating effect in cell culture models. By following this approach, with integrative systems biology as a central element, we will identify potentially important molecular targets being used for a more efficient radiation therapy resulting in lower rate of tumour recurrence and overall better long-time survival of the patients.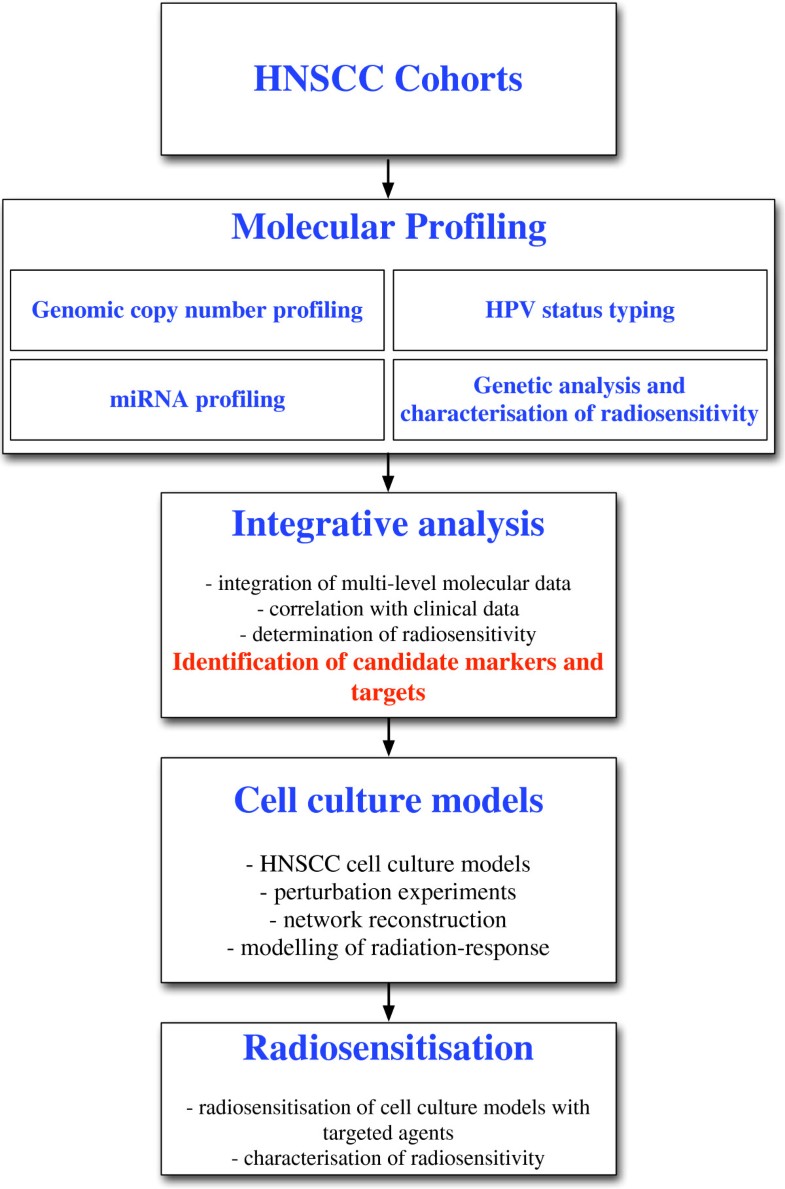 Limitations of systems biology in radiation oncology research
In radiation oncology research one has to deal with the effects of radiation on cells whilst the main aim is to protect and favour the tissue surrounding a tumour and to harm and delimit the tumour itself as much as possible. Radiation effects are composed of deterministic effects such as cell death or normal tissue reactions and stochastic effects such as point mutations or structural changes or changes in copy number of genes. Whilst for deterministic effects it is possible to predict what effects at which amounts are expected when applying a certain dose of defined radiation quality it is, by definition, impossible to predict the stochastic effects. Although there are systems biology approaches dealing with stochastic effects they cannot predict the occurrence of the primary radiation damage which in the radiation therapy setting are damages at the DNA level. So it remains unpredictable which genes are going be to altered as a cause of radiation treatment in the cell populations of both, the tumour tissue and its surrounding normal tissue, surviving each fraction in fractionated radiation therapy. Logically, the molecular mechanisms associated with the radiation-induced gene alterations cannot be predicted either. Thus, one could doubt the use of systems approaches in radiation oncology research at all. However, major obstacles of successful radiotherapy such local tumour recurrence or radiation resistance seem to be ruled by a set of common molecular mechanisms. For that reason it should be legitimate to assume that the primary effects of radiation indeed are of stochastic nature but that the inter-individual selective pressures effectuated by the radiation therapy and any concomitant treatment are the same between individuals and therefore lead to manifestation of the same set of molecular survival strategies. At this stage the system becomes describable and predictable again. So the prerequisites of successful systems approaches in radiation oncology research are to mimic the in vivo situation as best as possible and to "reverse translate" the findings gained in cell culture models to clinical samples HNSCC patients.
Conclusions
In the context of radiation therapy and the improvement of this therapy option alone or in combination with immuno- or chemotherapy seems to be extremely important taking into account its wide usage and the relatively low success rate with regard to long-term survival. The key feature to be addressed for improving radiation therapy is radiation sensitivity and its modulation towards higher sensitivity of tumour cells and lower sensitivity of the surrounding normal cells. Conventional approaches seeking for potential modulators did not yet provide the breakthrough, therefore implementing systems biology methodology into radiation oncology research is a very much promising approach. The clinical cooperation group "CCG Personalized Radiotherapy in Head and Neck Cancer" between the Research Unit of Radiation Cytogenetics at the Helmholtz-Zentrum München and the Radiation Oncology Clinics of the Ludwig-Maximilians Universität München currently applies a systems biology approach in order to identify candidate radiation sensitivity modulators for improved radiation therapy of HNSCC.
Authors' information
Clinical Cooperation Group "Personalized Radiotherapy in Head and Neck Cancer", Helmholtz-Zentrum München/Ludwig-Maximilians Universität München.
Declarations
Acknowledgements
Clinical Cooperation Group "Personalized Radiotherapy in Head and Neck Cancer" (link to website).
Authors' Affiliations
(1)
Research Unit Radiation Cytogenetics, Helmholtz–Zentrum München, German Research Center for Environmental Health, Neuherberg, Germany
(2)
Clinical Cooperation Group 'Personalized Radiotherapy in Head and Neck Cancer, Helmholtz–Zentrum München, Neuherberg, Germany
Copyright
© Unger; licensee BioMed Central Ltd. 2014
This article is published under license to BioMed Central Ltd. This is an Open Access article distributed under the terms of the Creative Commons Attribution License (http://creativecommons.org/licenses/by/2.0), which permits unrestricted use, distribution, and reproduction in any medium, provided the original work is properly cited. The Creative Commons Public Domain Dedication waiver (http://creativecommons.org/publicdomain/zero/1.0/) applies to the data made available in this article, unless otherwise stated.